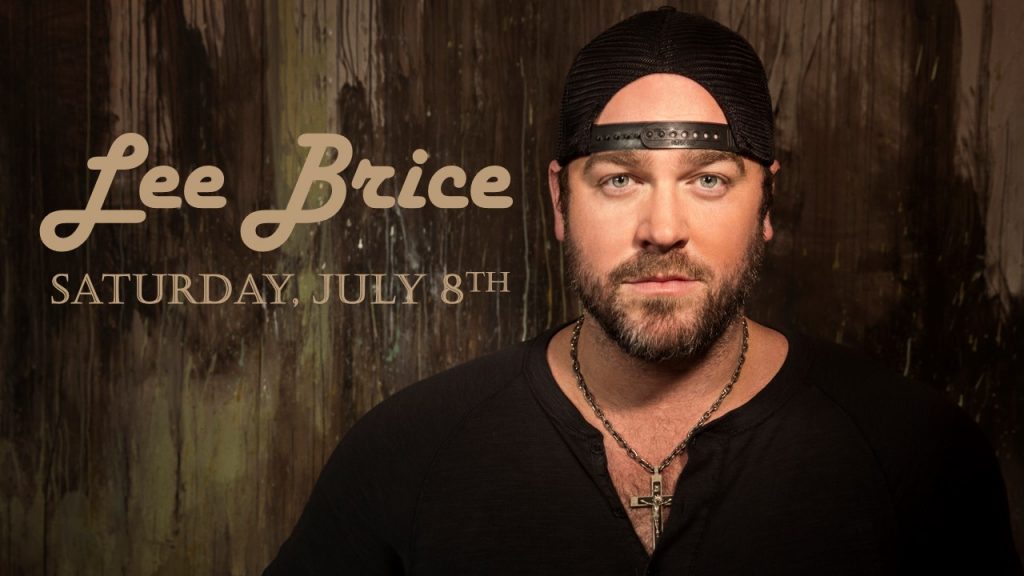 Lee Brice & Lewis Brice
The Buchanan County Fair Board is proud to announce Lee Brice will be headlining the 2017 Buchanan County Fair concert on Saturday, July 8th! Early bird tickets will go on sale December 2nd at www.midwesttix.com! Read below for more about Lee!!
Concert Info
Gates Open at 6:30
Opener, Lewis Brice, will take the stage @ 8:00PM
Lee Brice @ 9:00PM!!
Lee Brice Bio
Lee Brice is a craftsman, the kind whose boundless desire to hone his skills and relentless pursuit of perfection are matched only by his humility about the entire process. His latest album, 'I Don't Dance,' is a showcase for his painstaking approach to writing and recording, with his distinctive fingerprints clearly emblazoned on every element of the album.
Released Sept. 9, 2014, 'I Don't Dance' debuted at #1 on the Billboard Top Country Albums chart and #5 on the Billboard 200, setting the stage for Brice's meteoric rise in the country music world.
He celebrated the album's massive release week with performances on the Today Show and Letterman. He also teamed up with Luke Bryan for two sold-out shows in New York: a performance at Madison Square Garden, where Today Show host Hoda Kotb surprised Brice onstage with a career milestone plaque recognizing "I Don't Dance" as the year's fastest platinum-certified country single, and an historic concert at the Barclays Center in Brooklyn, the venue's first-ever country concert.
At the 2015 Academy of Country Music Awards, he was awarded two trophies in the "Single Record Of The Year" category as both artist and producer of "I Don't Dance." Two weeks later, he was invited to perform "Drinking Class" on NBC's" The Voice." The track not only went #1 that week but was certified RIAA Gold, marking his second RIAA certification in less than six months.
In January, Lee had a surreal moment when Garth Brooks invited him onstage in Boston to share vocals on "More Than A Memory," "Getting to sing that song with Garth – my first number one as a songwriter – was a "bucket list" moment for sure," shares Brice. He checked another item off his bucket list when he sold out his first headlining show at the historic Ryman Auditorium where he was met with six standing ovations over his 50 minute set. While Brice is now known as reliable chart-topping Nashville hit-maker, there was a time when he was only recognized for his work behind the scenes.
"I had success as a writer before I had success as an artist," says Brice, "so there's a misconception that I was a songwriter first and then started to sing my own songs later. But all along, I've really always been writing for myself. When I started writing songs at ten years old, it was because I wanted to sing them, and when I came to Nashville, I came to be a songwriter and a singer. It's all one thing to me."
After relocating from his native South Carolina to Music City, the former Clemson lineman dove headfirst into his craft, writing on his own and with a slew of talented musicians he fell in with. He found early success, with songs picked up by established artists like Jason Aldean and Tim McGraw. Though they may have been sung by other artists, those songs were stories from deep within Lee's own heart.
"'More Than A Memory' was a very personal song for me," he says of his breakout 2007 track. "I was thinking about keeping it for myself when Garth Brooks called, and that changed the whole dynamic."
It changed a whole lot of things. Brooks' recording of the track was the first single in the history of the Billboard Hot Country Songs Chart to debut at #1. Lee's stock skyrocketed in Nashville, and that same year, he signed with Curb Records and began laying the groundwork for his inexorable rise as a solo artist.
He released his debut album, 'Love Like Crazy,' in 2009. The title track reached #3 on the Billboard Country chart and set a record as the longest-charting song in its history. In 2012, he topped his own success with 'Hard 2 Love,' an album that went Gold and featured three #1 Country singles, including "I Drive Your Truck," which won Song of the Year at both the CMA and ACM Awards. The record earned raves from NPR to Country Weekly and found the New York Times hailing him as "a sensitive macho man," a compliment that perfectly encapsulates both sides of Brice's persona. Hard 2 Love also garnered Lee his late-night debut, a stirring performance of "I Drive Your Truck" on NBC's "The Tonight Show."
"On my first record, I had all these ideas and sounds I didn't know how to get out of me," Brice remembers, crediting frequent collaborator Doug Johnson with helping him learn some of the early ropes of recording. "On Hard 2 Love, I stepped out and tried things in the studio; if they didn't work they didn't work, but often times those experiments and ideas became the basis of some of my favorite songs."
Brice took it a step further on 'I Don't Dance,' relishing the role of producer with a flair for experimentation as yet another way to mold and shape his songs to match the sounds he'd been chasing in his head.
"I wanted to have control over every drumbeat, every lick of the bass part," he explains of his meticulous approach in the studio. "It was a lot of really sitting down and thinking about every little piece that goes into it."
Rather than approach the record as a whole entity, Brice listened to what each song called for and played to its strengths, allowing the warmth and presence of his personality to form the cohesive thread that binds them all together. On the lighthearted summer anthem "Girls In Bikinis," he built the track entirely from the ground up, playing every single instrument himself. The searing "Sirens," on the other hand, was cut live and loud in the studio, with raw electric guitars and a banjo part that captured Brice's first time playing the instrument.
Other tracks grew out of drum loops and studio experiments, inspired in part by his love of recent albums from Bruno Mars and Eminem. Live-show-moment "Drinking Class," one of three songs on the album not written by Brice, taught him a valuable lesson about hearing what the music calls for.
"We had ideas to put a lot of electronic sounds in it," he explains, "but after we cut it, I had a feeling that this is really a song about the working class, and it needed those sounds, like a sledgehammer hitting a railroad tie – stomps, claps and hums. I changed everything about it to get it back to its roots. Sometimes you gotta go to a lot of the wrong places to get to the right places, and that's not wasted time. It's part of the process."
"Panama City" is another track that took a circuitous journey to its final destination on the new album. Written by his good friend Chris Thompkins, the track first caught Brice's ear a decade ago when he heard a stripped-down arrangement of it on one of Thompkins' work tapes.
"I couldn't imagine it being any different than what I heard on the work tape," says Brice. "I wanted to do it live because I didn't want to give myself the option of redoing vocals or piano or bringing in background singers later. The engineers at Ocean Way Studios [in Nashville] painstakingly disassembled its baby grand piano in order to move it from its booth into the main room – which is an old church. We took our headphones off, turned off the click tracks — no drums. It's like they did 50 years ago. We played it four times and the last time was perfect. I took it off the board exactly the way we recorded it and mastered it, and it's my favorite track on the record by far."
Perhaps the most personal song on the album, though, is the title track, which Brice wrote for the first dance at his May 2013 wedding. As with so much of his work, the lyrics are inspired by his undying love for his wife, Sara, but they resonate with a huge audience. Top wedding website The Knot recently selected it for the "Dream Wedding" they threw for a pair of Boston Marathon bombing survivors.
"Of all the songs I've written, it's my favorite," says Lee, "and I don't know that that'll ever change."
The earnestness in his voice tells you he means it, but with a craftsman like Brice, it's hard to imagine he's not already dreaming of his next chance to get into the studio and top it.