2022 Firefighter Training Show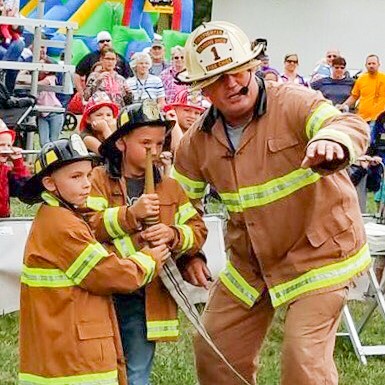 Show Times
Wednesday – Saturday
2:30 pm, 4:30 pm, 7:30 pm
Details
The Firefighter Training Show plays off every childs curiosity to one day be a "Firefighter – Hero."
The show allows volunteers from the audience, usually kids but we can use adults, to become our firefighter trainees (audience participation show). After being fitted in a fire jacket and helmet, the new trainees are introduced to the audience as their next generation of heroes and the volunteer firefighters are divided into two teams.
When the alarm tones sound calling engine one to duty, it's all trainees on deck. Each firefighter trainee/team gets to complete the basic tasks at our simulated fire scene: laying out fire hose, attaching it to the fire truck and putting on a nozzle. They'll use a real fire extinguisher to squirt water at simulated flames in our smoke rescue building in hopes they can knock the flames out of the window. After putting out the fire they enter the smoke filled building to make a heroic style rescue, demonstrating how to crawl low under smoke. We use an odorless, non-toxic, white smoke which dissipates in about 1 to 3 minutes.
The dialog between our fire chief the audience and the new trainees is riddled with humor and educational information such as, in case of fire "Get Outside and Stay Outside" only firefighters attempt rescues. In between fire alarms, the fire chief also introduces important fire safety lessons "Don't Hide, Get Outside" and "Crawl Low, Under Smoke."
Nobody is left out of our show. After tower ones surprising water cannon shot the audience is invited to stay and all the kids can practice "crawl low, under smoke" through our smoke-rescue facility, touch and feel real fire fighting equipment or have a photo taken dressed as a firefighter, looking just like the firefighters in the show. All post show activities are free except for the photo of the kids dressed as a firefighter taken with our camera and kids size fire helmets or other firefighter related toys we may offer for sale.
We have uniforms for age 2 through adult so anyone could become our next firefighter trainee.
FREE Junior Firefighters Play Station for the younger kids under 5.