Holiday Craft & Vendor Fair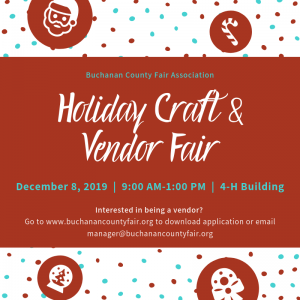 The Buchanan County Fairgrounds will be hosting a Holiday Craft & Vendor Fair, taking place on Sunday, December 8th. This event is open to the public and admission is free.
Space is limited, so if you would like to participate as a vendor, please download the application below and fill out the bottom portion of the page, then return it with your payment as soon as possible. Payment must be received to guarantee your table reservation.