BUCHANAN COUNTY FAIR QUEEN CONTEST!
BUCHANAN COUNTY FAIR QUEEN SCHOLARSHIP AWARD
The Buchanan County Fair Board is looking for an individual who exemplify the values of our County. We are in search of candidates who are a positive representative of the County to receive a scholarship award and represent Buchanan County at the Iowa State Fair. Candidates must have a permanent address in Buchanan County OR have a FFA/4H group that is involved with the County. Candidates must be between the ages of 16 to 21.
The perfect candidate will articulate through their resume and interview skills how they have been involved in Buchanan County and left a positive impact on our community.
Candidates will be required to attend a judging day (DATE TBD FOR 2018) where they will be interviewed and scored on communication, leadership, professionalism, and participation. Crowning will take place  during the week of Fair (July 3rd -July 7th ). 
The winner (queen) will be awarded a $500 scholarship and a chance to compete in the Iowa State Fair Queen Competition. The runner up (princess) will be awarded a $250 scholarship.
Interested applicants should send a professional resume detailing their involvement in their school, extra-curricular activities, service groups and/or  volunteer opportunities. Being involved in the fair is not a requirement.  Please attach a letter of interest detailing why you wish to become the 2017 Buchanan County Fair Queen.  Send by June 16th  to:
Ali Happel
3215 X Ave
Fairbank IA 50629
or email: happelalison@gmail.com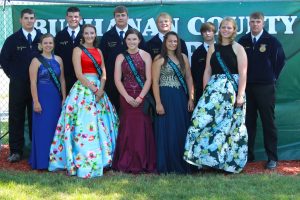 Sign up for the Buchanan County Fair Newsletter and never miss a thing!